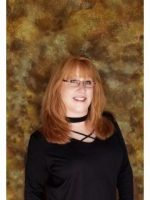 Sales Associate
REALTOR, National Association of REALTORS
Office: 440-417-8269
Fax: 440-­639-4332
2709 N. Ridge Road
Painesville, OH 44077
I spent my teens, twenties and early thirties as a professional performer, choreographer and dance instructor. After a career ending injury, I landed a position first, doing store displays, then as a training supervisor at a major department store. I was lucky enough to be able to work as a stay at home mom after the birth of my daughter.
I am currently employed by the Geneva Area City Schools where I get to work with special needs students. I was also the "library lady" at Geneva Middle School. During my time in the library I was able to provide services beyond my job description. I started the Fairy Godmother Shop; a shop to supply students with formal wear for dances free of charge. I also started a student signing club. Students came to the library and learned sign language in order to communicate with a fellow mute student.
I am passionate about helping people. Whether it's your starter home or you're looking for somewhere to stay forever. I want to help you find the place that says "WELCOME HOME".