Roaming Shores Ohio is a 1,700 acre Private Lake Community located in Ashtabula County, Ohio. Lake Roaming Rock is the largest Private Lake in Ohio! It is managed by a homeowners association, the RomeRock Association and a municipal government, the Village of Roaming Shores.
View Roaming Shores Ohio Homes for Sale

The Village of Roaming Shores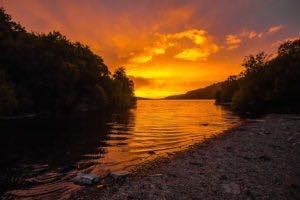 The Village of Roaming Shores — located in rural Ashtabula County, Ohio, only a one-hour drive from Cleveland, Erie or Youngstown — offers a restorative lifestyle with generous amenities.
Lake Roaming Rock of Roaming Shores is the largest private body of water in Ohio. With a 550-acre surface area, a main channel depth exceeding 35 feet, a 56 slot marina, numerous coves and nearly 30 miles of shoreline, the lake is ideal for recreational boating and fishing. The lake is also a remarkably quiet and accessible due to the fact Roaming Shores residents and their guests are the only allowed users.
Roaming Shores is by far the most affluent community in rural Ashtabula County. Hallmarks of the Village include stable and growing property values, significant personal home occupancy rates (i.e., few rentals), and residents who possess a high level of educational attainment.
Originally, the Association owned 100% of the 26 miles of roads in the community, which made them "private." However, 27 direct entrances make it impossible to restrict access to the general public. The Village over the years has purchased 1.5 miles of "chip and seal" roadway and is now actively pursuing public works grants in order to make safety improvements as well as widen, drain and reconstruct the surfaces with hot-mix pavement.
---
Search Roaming Shores Ohio Homes by Map
---
Showcase of Roaming Shores Ohio Homes for Sale
---
Are you looking to buy or sell a home?
Whether you are a first-time buyer, moving up, relocating, or downsizing, Century 21 Asa Cox Homes has agents dedicated to assisting you from the beginning of the buying process to the end, and beyond. We offer numerous benefits to home sellers as well. Century 21 is the most recognized name in real estate today. From coast to coast and around the world, Century 21 sells more homes than any other real estate organization.